NEWS RELEASE

Dec. 7, 2015 (Milwaukee, WI)
Over $100,000 awarded to local entrepreneurs in first Milwaukee Healthcare Innovation Pitch Event

The first-ever southeast Wisconsin Healthcare Innovation Pitch (HIP) event was held on Friday Dec. 4th in Ward4, in an event co-organized and sponsored by Bridge to Cures, CTSI (Clinical and Translational Science Institute), Medical College of Wisconsin and Concordia University Wisconsin. In this Shark Tank-like event, nine of the leading healthcare innovator teams in southeast Wisconsin pitched their ideas to an all-star panel of seven healthcare venture capitalist judges. The panel of judges included:

Loren Peterson, Managing Director at Venture Investors Early Stage Fund (in person)
Klaus Veitinger, Venture Partner with OrbiMed (in person)
Giovanni Ferrara, Venture Partner at Novartis Venture Funds (Skyping in from Belgium)
Allen Hakimi, Managing Director and CEO of Technomark (in person)
Danny Janiak, Director with Mercury Fund (in person)
Pieter Rhemrev, Manager of Ppm Oost NV, public fund (Skyping in from the Netherlands)
Stephen Coutts, Principal of Alembic and serial healthcare entrepreneur (in person)

According to Bridge to Cures CEO Daniel Sem, "this was an unprecedented gathering of healthcare venture capitalists and thought leaders, unlike anything we have seen before in southeast Wisconsin. Their tremendous expertise was crucial not just for judging the startups in our pitch event, but also for providing insights into the future of healthcare innovation in the U.S., in a panel discussion." In the panel discussion, led by Wisconsin venture capitalist Daniel Einhorn (Capital Midwest Fund), the healthcare thought leaders discussed topics such as how increasing M&A activity of big pharmaceutical companies is hurting innovation, promising new drugs in pharma's pipeline (e.g. cancer checkpoint drugs; biologics), the face of healthcare in 10 years, the potential impact of the Affordable Care Act, and the trend towards personalized medicine and orphan diseases.

The panel listened to 15 minute pitches from nine local startup teams, from universities across southeast Wisconsin. Leading up to Dec. 4th, these nine teams participated in two months of in-depth mentoring and bootcamp sessions, including 5 sessions in the Milwaukee National Science Foundation I-CORPS program, as well as mentoring on business plan writing and pitching to investors. The winning teams (and their products), announced Dec. 4th after the pitches, are:

Southeast Wisconsin Healthcare Innovator of the Year ($50,000)
Essential Biotechnology: Novel biologic treatment for often-lethal pancreatic cancer

Medical College of Wisconsin Healthcare Innovator of the Year ($25,000)
ReNeuroGen: Novel treatment for stroke and traumatic brain injury

Concordia University Wisconsin Healthcare Innovator of the Year ($25,000)
Microlitics: Personalized medicine, with initial application in organ transplants

Judge's Choice Award ($10,000)
Angio360: Cancer diagnostic for veterinary applications

The event also featured a keynote lecture by local healthcare entrepreneur Daniel Lawton (Chairman, Promentis), and comments on the importance of healthcare innovation and collaboration in Wisconsin by Lisa Johnson, CEO of BioForward. Sponsors of the Dec. 4th HIP event included CTSI, Medical College of Wisconsin, Concordia University Wisconsin, WEDC (Wisconsin Economic Development Corporation), Andrus Law Firm, Quarles and Brady, DeWitt, Venture Investors, Charles Koch Foundation, and The Commons.

Bridge to Cures, Inc. (B2C) is a nonprofit Wisconsin corporation with a mission to help entrepreneurs at academic institutions across southeast Wisconsin translate their research and inventions into products and companies in the healthcare field. B2C has a hybrid business model that relies on private, public and philanthropic funding for facilitating medical innovation and product development. "The core strategy of B2C is to deliver exceptional experience on entrepreneurial finance to emerging biomedical ventures. This way, a startup will have the best chance of receiving subsequent venture capital funding," according to the B2C Chief Business Officer, Doug Stafford, Ph.D. Ultimately, such partnerships should lead to successful commercial products such as devices, drugs, and other innovative solutions in healthcare. The intended benefit is the creation of a more vibrant biotech ecosystem and jobs in southeast Wisconsin. The charitable purpose of B2C focuses on education and helping innovators – social entrepreneurs focused on the dual bottom line of profit and social impact – to form and grow new businesses that address unmet medical needs. Investment successes will be reinvested to provide a sustainable resource to entrepreneurs to achieve regional economic development, and maximum social impact. Bridge to Cures is pioneering this unique business model, as a social venture; and, in a significant accomplishment, they recently received 501(c)(3) tax exempt status from the IRS, based on this charitable purpose. The founders are drug development scientists at Medical College of Wisconsin (Ramani Ramchandran, Ph.D.), UW-Milwaukee (Doug Stafford, Ph.D.) and Concordia University Wisconsin (Daniel Sem, Ph.D.).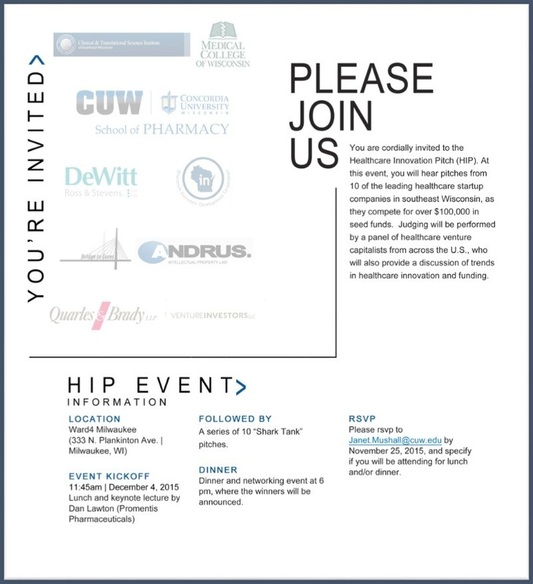 Announcement
The Healthcare Innovation Pitch Event
December 4th in Ward4, 11:45-5:30 pm
(Dinner and award reception to follow)
Southeast Wisconsin's first healthcare-focused Shark Tank pitch event, where southeast Wisconsin's top healthcare innovators compete for over $100,000 in seed funds.
Register at:
https://redcap.mcw.edu/surveys/?s=wv78ZB
The International Shark Tank Panel of Judges (Healthcare Thought Leaders & Venture Capitalists):
- Loren Peterson, Managing Dir., Venture Investors
- Klaus Veitinger, Venture Partner with OrbiMed
- Giovanni Ferrara, Venture Partner at Novartis Venture Funds (Skyping in from Belgium)
- Allen Hakimi, Managing Director of Technomark
- Danny Janiak, Director with Mercury Fund
- Pieter Rhemrev, Manager of Ppm Oost NV, public fund (Skyping in from the Netherlands)
- Stephen Coutts, Principal of Alembic and serial healthcare entrepreneur

Media coverage of the kickoff event at: http://www.jsonline.com/business/medical-entrepreneurs-will-make-pitches-for-start-up-grants-b99584204z1-329549301.html

This event would not have been possible without our partnership with the Clinical and Translational Sciences Institute (CTSI) of Southeast Wisconsin. Hear about the Dec. 4th Healthcare Innovation Pitch Shark Tank
from CTSI: https://ctsi.mcw.edu/blog/news-events/news/discovery-radio/episode-15/

---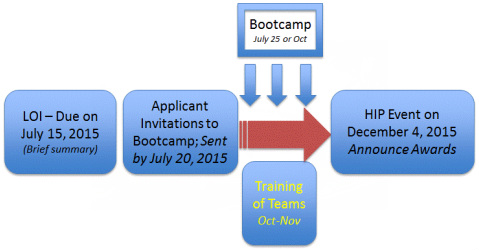 September 24th Bridge to Cures Press Release

CTSI & Bridge to Cures Announces that 13 Startup Companies will Attend the Healthcare Innovation Pitch (HIP) Launch Event in Ward 4

The Clinical and Translational Sciences Institute (CTSI), an academic consortium focused on advancing healthcare solutions, is partnering with nonprofit Bridge to Cures, Inc., to seed, mentor and grow university spinout companies that are focused on providing innovative solutions to healthcare problems. Over $100,000 in seed funding will be provided, along with mentoring. The HIP Launch event is this Saturday, Sept. 26th in Ward4, to prepare companies for the Healthcare Innovation Pitch Event (Dec. 4th at the Innovation Campus). Thirteen companies have been selected to participate in the Launch Event which is likely to be the most significant gathering of healthcare entrepreneurs and startup companies in southeast Wisconsin to date.

Program details. The HIP Launch Event is an intensive workshop focused on helping the 13 healthcare startups expand their teams (the HIPsters) and refine their business models. Mentoring is provided via a unique regional collaboration between CTSI, Bridge to Cures, The Commons, and the Milwaukee NSF I-CORPS program, as well as faculty, staff and students from the business schools at Concordia University Wisconsin and UW-Milwaukee, and regional entrepreneurs. The workshop runs all day (9 am to 7 pm), ending in a networking event and celebration after 7 pm, sponsored by Quarles and Brady. An "Audience Choice" award will be given to the team voted as having the best "business model canvas." Tom Still, President of the Wisconsin Technology Council, will speak over lunch on the innovation and startup environment in Wisconsin. Business students from regional schools, along with PICO (Postdoc Industry Consultants) students, are being invited to join the HIPster teams for the day-long event, and help them refine their business models – and maybe even join the teams for good.

The 13 startups are focused in a broad range of healthcare innovation areas, with products that include drugs, devices, diagnostics, and healthcare informatics or services. Most have established strong patent positions, and collected teams of experienced industry experts. Companies include ABL Technologies, which is developing a new cardiac mapping diagnostic tool, and Vivoform from Concordia, which is developing more effective formulation strategies for delivering drugs to their therapeutic targets. Another company, VibeTech, already has initial market validation and a strong patent position (5 issued or licensed patents) for a novel vibration technology they developed to increase speed of rehabilitation. Two MCW spinouts are focused on cancer, one on personalized medicine and informatics (WPT), and another on a novel therapeutic intervention (Essential Biology). An MSOE spinout (SOURCE) is working to develop and commercialize a nanotechnology-based blood substitute. FirstDanao from MCW also has a strong patent position for its new therapeutic for treating vascular disease and stroke. And, two companies are focused on products related to intestinal flora, one looking at diagnostics to predict heart disease (Microbiota Diagnostics) and another at a therapeutic strategy to re-establish healthy flora (FloraSeq). NanoAffix, a current tenant at the UWM Innovation Campus, is developing wireless nanotechnology-based biosensors as diagnostic tools, such as for acid reflux disease. And Microlitics from Concordia is developing a phenotypic profiling diagnostic, to aid in more effective personalized medicine strategies that will identify which patients will respond best to drugs, based on their predicted metabolism. Angio360 is a student-led MCW spinout company looking to develop cancer-based diagnostics for both human and veterinary markets, and their technology relies on patents that are being licensed from the National Institutes of Health.

This is an amazing collection of talent, and it seems certain that some of these companies will go on to create the next generation therapeutics, devices, and diagnostics – thereby generating significant revenue and social impact. We are excited and honored to be part of helping them get their start. This is proof positive that southeast Wisconsin is a hotbed of healthcare innovation.



Competition and Awards: Applicants that advance will receive further mentoring and assistance in defining their product, preparing a business model and business plan, and delivering a brief pitch to an expert panel of health care investors, at the HIP Event. The top overall healthcare innovation startup in southeast Wisconsin, as well as best startup from each donor institution (Medical College of Wisconsin and Concordia University Wisconsin), will be eligible for prizes valued at over $100,000 (grants, legal services, 1X convertible notes). Winners will also be eligible for a free legal audit from the Marquette Law and Entrepreneurship Clinic. Winners will be selected from a panel of venture capitalist investors from across the U.S. and Europe, in a "Shark Tank" like event on Dec. 4th. This event is being called the Healthcare Innovation Pitch (HIP) Event. But, it all begins Saturday Sept 26th, at the HIP Launch Event.


----------------------------------------------------------------------------------------------------------------------------------------------------------------


The Healthcare Innovation Pitch Event

Application Deadline Extended to August 25


CTSI (Clinical and Translational Sciences Institute) & Bridge to Cures Announce the First Healthcare Innovation Pitch (HIP) Event
The Clinical and Translational Sciences Institute (CTSI), an academic consortium focused on advancing healthcare solutions, is partnering with nonprofit Bridge to Cures, Inc., to seed and grow university spinout companies that are focused on providing innovative solutions to healthcare problems. Seed funding and mentoring will be provided as part of the Healthcare Innovation Pitch Event, to be held this December 4th at the Innovation Campus. Applicants are being sought over the summer, and a RFA can be found at CTSI and Bridge to Cures websites.

What is the Healthcare Innovation Pitch (HIP) Event?
The Healthcare Innovation Pitch (HIP) event is the highly publicized Bridge to Cures biannual event. It is modeled after the ABC show "Shark Tank," where entrepreneurs get the rare opportunity to pitch to a panel of life science venture capitalists from across the country. The HIP event will be hosted at the UWM Innovation Campus (Innovation/Accelerator Building). This will be a public event with university, industry and government participation.

Prior to the event the Bridge to Cures Advisory Board and Seed and Growth Committee will screen discoveries and inventors to select the most promising innovations. Selected inventors will then be mentored and coached to develop their pitches. At the event, finalists will pitch their idea to the Seed and Growth Committee, comprised of life science venture capitalists from across the US and Europe. The Seed and Growth Committee is comprised of the type of syndicate that could ultimately invest in a subsequent VC round. A final funding decision will be made – on the spot. This adds to the excitement of the event, and gives the participants a valuable real-life fundraising experience for their startup.


What is the Motivation for the HIP event?
Healthcare costs continue to rise to unsustainable levels (> 15% GDP), and yet many healthcare needs remain unaddressed. There is therefore a pressing need for new medical interventions, as well as more efficient and effective ways to deliver healthcare in the U.S. and globally. Solutions to these problems can be provided by technical and business innovators in drug and device development, heath care informatics, healthcare delivery (e.g. nursing, PT & OT, pharmacy), clinical diagnostics and other areas. This kind of innovation is present in the six regional universities that have partnered through the Device and Drug Development Initiative (D3I; formerly DDRI and part of CTSI). D3I partner institutions include: Medical College of Wisconsin (MCW), Blood Center of Wisconsin (BCW), University of Wisconsin-Milwaukee (UWM), Marquette University (MU), Milwaukee School of Engineering (MSOE) and Concordia University (CU). See: https://ctsi.mcw.edu/investigator/ddri/


Program details
Applications are being solicited now for the Healthcare Innovation Pitch (HIP) event. This event is open to any healthcare innovator in southeast Wisconsin, with additional award options available to D3I partner institutions that have provided in-kind funding. Applications must come from a donor institution (Medical College of Wisconsin or Concordia University Wisconsin), or involve a partner from a donor institution. Partnering opportunities are part of the HIP mentoring process, so applications are encouraged from all healthcare innovators in southeast Wisconsin, even if such partnerships do not yet exist. Applications are being sought from faculty and/or student innovators via the RFA on the CTSI and Bridge to Cures websites. While it is helpful for applicants to have some intellectual property and funding in place, it is not required; that is the purpose of this process and competition.

Applicants will be selected to participate in a free mentoring bootcamp, where they will be assisted in refining their healthcare innovation idea into a commercial plan around which a business could be formed (through the NSF-funded Milwaukee I-Corps bootcamp). Applicants will then have access to mentoring on how to write and pitch a business plan, and participate networking events designed to assist in adding members to their team, if desired (in partnership with The Commons). The free mentoring and classes will culminate in applicants writing a business plan and pitching that plan to a panel of healthcare venture capitalists from across the Unites States, to compete for prizes of over $100,000 to help them start and grow their new healthcare business. This seed funding is provided by matching funds from the Wisconsin Economic Development Corporation (WEDC), through a partnership with Bridge to Cures.


Application Deadline: July 15th, 2015 (email application to: dan@bridgetocures.com)
Note: The application is a brief description only; applicants will add to and refine their startup idea in sessions leading up to the HIP Event

- Applicants selected to advance to next phase (NSF I-Corps Bootcamp): July 20th
- Milwaukee NSF I-Corps Bootcamp for applicants: 4 Monday evenings starting July 25th (or October)
- Networking and Teambuilding Event; Pitch Mentoring at The Commons: Fall
- Business Plan Mentoring and Classes: 2 weekday evenings in November
- HIP Event; pitch to panel of Healthcare Venture Capitalists: Friday December 4th

Competition and Awards: Applicants that advance will receive mentoring and assistance in preparing a business model, a business plan, and a brief pitch to be given to an expert panel of health care investors from the East and West Coast, at the HIP Event. The top overall healthcare innovation startup in Southeast Wisconsin, as well as best startup from each donor institution, will be eligible for prizes valued at over $100,000. Winners will also be eligible for a free legal audit from the Marquette Law and Entrepreneurship Clinic.

Winners are to be selected from a panel of venture capitalist investors from across the U.S. and Europe, in a "Shark Tank" like event on Dec. 4th at the Innovation Campus in Wauwatosa. This event is being called the Healthcare Innovation Pitch (HIP) Event.

Application* should include (2 page max; 11 pt Arial font; 0.5" margin; send as pdf):
1. Business team or company name
2. Team members (name, affiliation, contact information, brief bio (<400 words))
3. Describe your health care product (e.g. drug, device, diagnostic, assay) or service (<800 words)
4. Describe the customer or market for your product or service (< 400 words)
5. Intellectual property (list key patents, provisional patents, applications, trade secret)
6. Validation or proof of concept (list key publications, grants, patents, prior funding)

Competition and Awards: Applicants that advance will receive mentoring and assistance in preparing a business model, a business plan, and a brief pitch to be given to an expert panel of health care investors from the East and West Coast, at the HIP Event. The top overall healthcare innovation startup in Southeast Wisconsin, as well as best startup from each donor institution, will be eligible for prizes valued at over $100,000. Winners will also be eligible for a free legal audit from the Marquette Law and Entrepreneurship Clinic. Winners will be selected on Dec. 4, at the HIP Event, at the Innovation Campus.


-----------------------------------------------------------------------------------------------------------------------------------------------------------------------------------------------------------------------


* Program Details

Applications. Applications (non-confidential) are welcome in any area of health care innovation, including drug or device development, clinical services, diagnostic assays with commercial potential, as well as software and apps with health care uses. Applications must follow the specifications provided on the announcement page; but, it is expected that some applicant ideas may be at an early stage, and may not have intellectual property in place, or may not have obtained significant market data for their product or service idea. Such applicants are still encouraged to enter, because part of the process is to provide mentoring and assistance in developing a strong intellectual property position and business strategy. This mentoring will be provided in the Bootcamp as well as free classes on preparing a business plan. Applications must come from a donor institution (Medical College of Wisconsin or Concordia University Wisconsin), or involve a partner from a donor institution. Partnering opportunities are part of the HIP mentoring process, so applications are encouraged from all healthcare innovators in Southeast Wisconsin, even if such partnerships do not yet exist.

Seed funding. Funding is provided as a combination of grants, 1X convertible notes (debt that converts to equity at favorable terms, if/when a venture financing round occurs), and legal services). Each donor institution will have the top applicant from their institution receive a $25,000 award, in addition to being eligible for a larger regional grand prize for best overall healthcare innovation startup. All money must go directly to the startup company.

Intellectual Property. Applicants are warned to not include any confidential information in their application which may compromise their future ability to obtain patent protection. Once key information that relates to your patentable invention is publicly disclosed, you may lose the ability to obtain a patent. For our application process, you need only provide general and publicly available information, to satisfy initial application requirements. Applicant will indemnify and hold harmless HIP Event organizers, including Bridge to Cures Inc., CTSI, and their principals, with regard to any claims arising in connection with disclosure of information relating to their invention, and with regard to commercialization of the results of their submitted project by or under the authority of Applicant.




Bridge to Cures in the News: